Overview
Hyper Realistic Tone
Get ready to have your mind (and ears) blown. AmpliTube 4, a major upgrade to the world's most powerful guitar and bass tone studio for Mac/PC, is here and will take you to a level of hyper-realism and customization of tone you never knew possible.
AmpliTube 4 is a guitar and bass tone studio for Mac/PC that works as a standalone application and as a plug-in for your favorite DAW. AmpliTube recreates the entire guitar/bass signal chain from instrument to recording device, and does so in a very realistic and intuitive way. But it also does it in ways you never dreamed possible. If you're new to using computers to get fabulous guitar tone, then you're in for a treat. If you're a veteran computer tone-master, well, you're still in for a treat. AmpliTube pioneered — and leads the way in — guitar amp and effects modeling, and AmpliTube 4 takes it to the outer edges of extreme hyper realism with intuitive familiar tools.
Watch the video here!

New Hyper-realistic cab room
AmpliTube has always been about realism, and now that extreme commitment to accuracy is a part of its completely redesigned cabinet section. The new Cab Room feature is the most advanced cabinet section ever made, giving you a new level of customization and flexibility never before seen in software or reality.
The cab room now has 5 distinct customization sections: cabinet selection with size adjustment where players can choose the speaker cabinet they'd like to match to the amplifier, individual speaker selection where they can swap out individual speakers, mic selection and placement for finding the speaker "sweet spot", room selection where players select the surrounding recording environment, and a mixer section that allows players to mix the levels of speaker mics, room ambience, direct amp signal and overall main mix. Never before has such a level of control and customization been available for fine-tuning tones from the speaker section. For starters, the cab room is just that — a 3-dimensional speaker cabinet recording space that can be changed depending upon the desired "room" type and effect. Players can choose from a range of room types, from a cavernous "garage" to a full on cabinet "dead" room, and mix the room effect and color into the overall sound.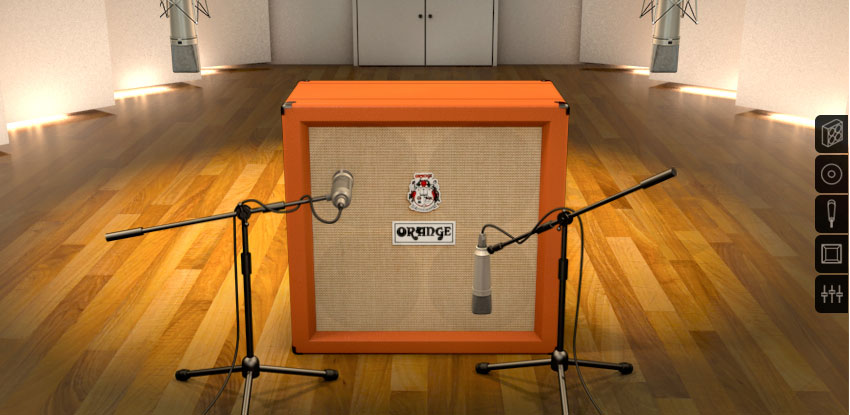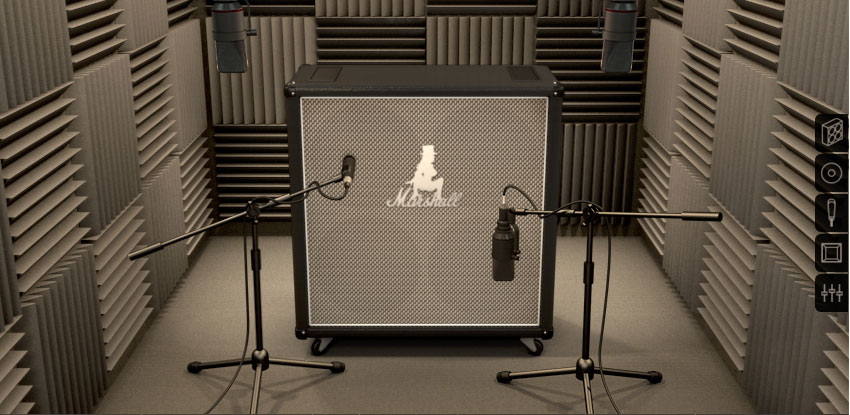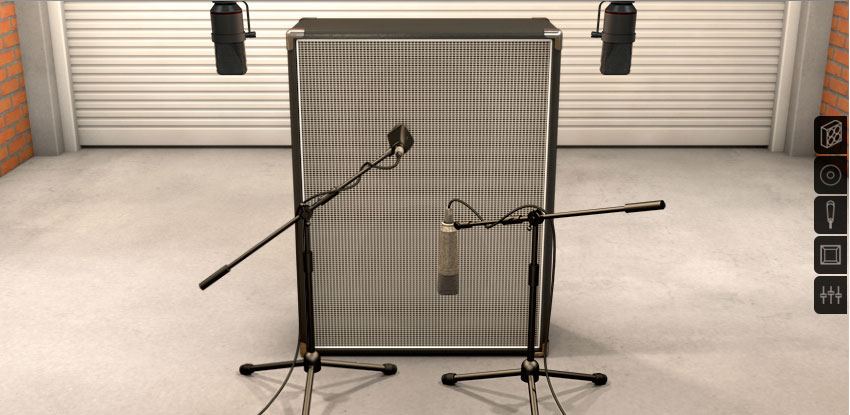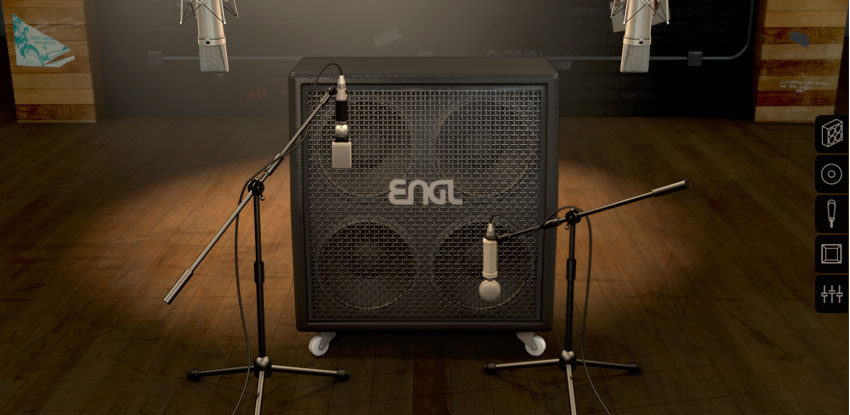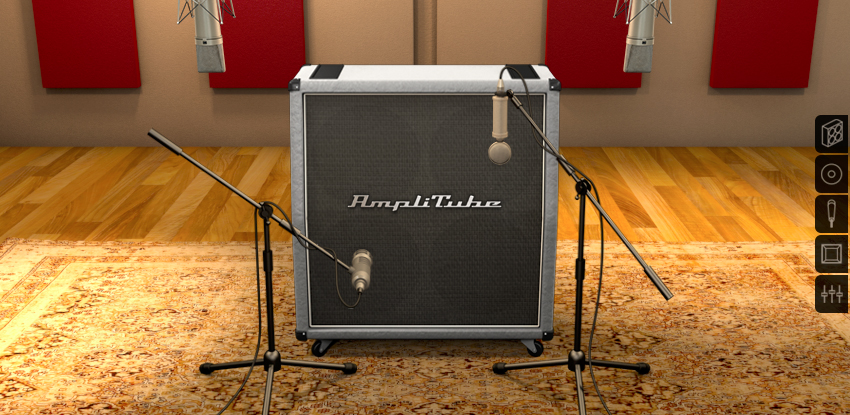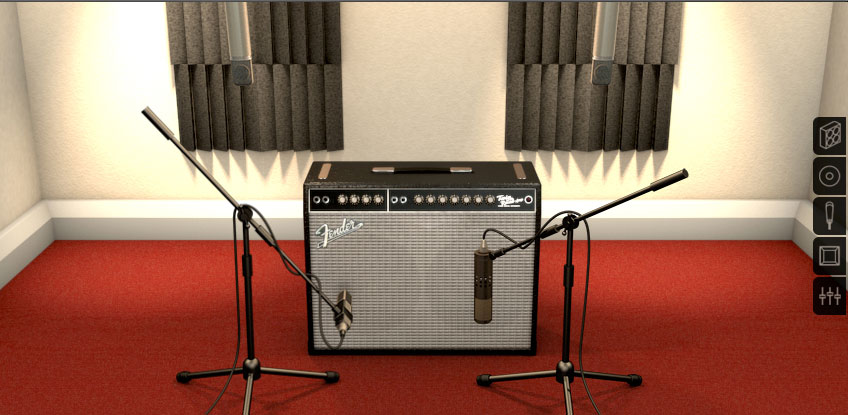 Dual 3D mic placement
Now you can mic up your cabinet with up to two microphones in a full 3D space. AmpliTube 4 comes with 3 microphone, with an additional 15 highly coveted recording microphone models available in the Custom Shop providing a truly hyper-realistic sound capturing environment. The room microphones can also be chosen from the available mics. This, coupled with its swappable speakers, allows for true cabinet miking with full speaker interaction — a digital first. Add in things like room ambience control, a new mixer for the cab section and gorgeous new graphics, and it's easy to see that the new Cab Section is poised to revolutionize the way guitarists, bass players and other musicians utilize virtual cabinets in their music.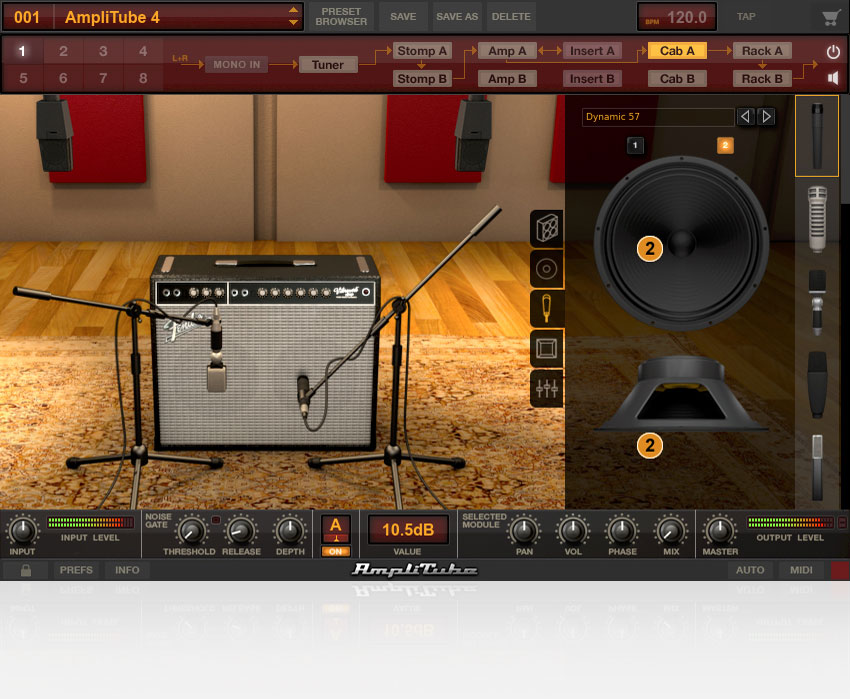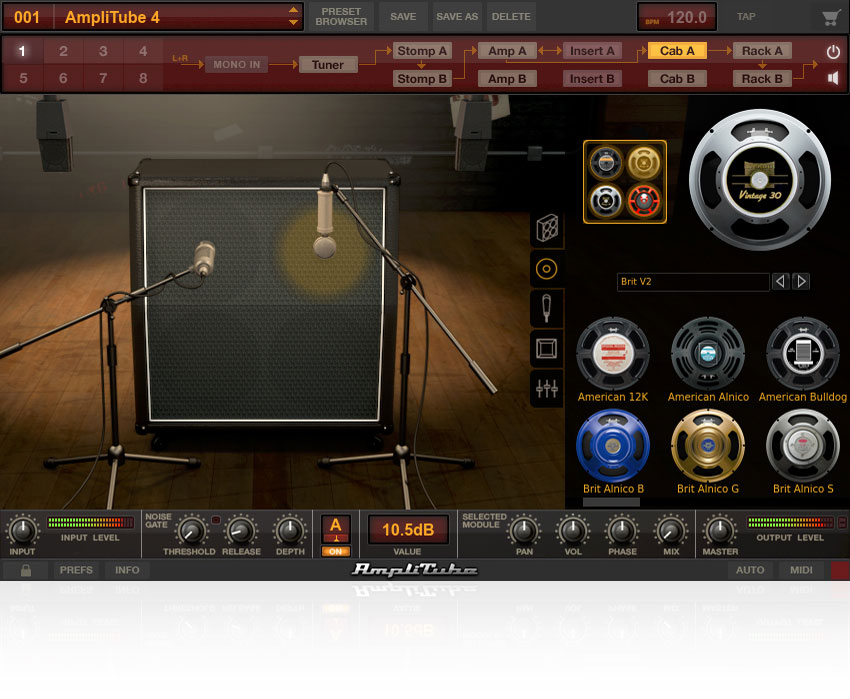 Individual Speaker Selection
Now you can swap out individual speakers in your favorite cabinets at will, allowing for creative speaker combinations utilizing the many precision-modeled speakers available. The AmpliTube 4 speaker cabinet section not only accurately reproduces the tonal characteristics of the individual speakers, but also accurately picks up the harmonic interactions between the individual speaker models, the cabinet construction and the room, making it the most realistic speaker cabinet emulation available.
New Hyper-realistic gear
AmpliTube 4 welcomes 5 new classic amplifier models to the mix representing some of the best British tones from the 70s, 80s and 90s. Each amplifier has been modeled from scratch to embody a different aspect of powerfully classic British amplifier design: There's the Brit 8000, Brit 9000, Red Pig, Brit Silver and Brit Valve-Pre. All of these new amplifiers have been created utilizing the same methods and patented technologies that have made the AmpliTube brand name synonymous with world-class sound, hyper-realistic tone and extreme accuracy.
In addition to the new effects loop, most stomp or rack effects can now be placed into the effects slot. This means that most stomp boxes can be used in the post "rack" section, and rack effects can be used in any stompbox slot — on any pedalboard or in the effects loop section. This opens the door for even more for creative tweaking and innovative sonic sculpting possibilities.
Follow Us!